Tri-Star Estates December Homes of the Month & TV Giveaway!
Christmas is here at Tri-Star Estates! Our December Homes of the Month Specials include 2 lovely homes at a great low price! Also, a free LED TV will be yours if you purchase one of these homes! Our first home is a nearly new single-sectional that features a fantastic kitchen setup, a spacious family room, beautiful master bath and more! Our second home is a lovely pre-owned multi-sectional home with many great features! Tell your friends and family about these great homes and special deals we have to offer! Call us for more details at 815-932-0200.
Tri-Star Estates Fall Fest Special! Offer Ends On 12/31/17!
We have a wonderful can't miss fall special at Tri-Star Estates! These homes come with an efficient kitchen setup that include appliances. The family rooms also compliment the kitchens. Most of these homes have been remodeled and have many unique and great features! If you want a more in depth viewing of our homes, check out our
Home Tours
page to see some stunning tours of our beautiful homes and our breath taking clubhouse. Check out our
Home Listings
page to see more details of these lovely homes. Contact us at 815-932-0200 if you have any questions and to set up an appointment to tour these beautiful affordable homes today!
You Can Still Join Our Free Football Pool Contest!
This is the second year of our annual football pro-pick-em contest. All you have to do is pick your winning teams each week for a chance to win weekly prizes and end of the season prizes for the top winners! This is free event and is open for anyone to join!!!
Neighborhood Heroes Program
Santefort Neighborhoods understands how important it is for us to entice residents with strong and unique attributes to join us and create the best community possible.  What makes a neighborhood great are the residents themselves and what they offer the community.  That's why we hold special social events, participate in county fairs, offer activities for kids and much much more!  We certainly cherish the people in our communities!  So, why not offer something special for the people who allow us to live our lives to the fullest every possible day and are the real heroes in our communities?
For a limited time, we are pleased to offer a 5% down, 5% interest rate (APR) on all our homes for all our qualified Neighborhood Heroes!  This is an even better deal than our standard and affordable 10% down and 8% APR.  This is for qualified veterans, police officers, firefighters, teachers, and nurses.  Because you have given so much to make our neighborhoods what they are today, we want to make it easier for you to own a great new or used home.  We also believe our neighborhoods are a great place to live and would ever appreciate the value our neighborhood heroes could add to our communities.
Please pass the message on to your friends and family and refer a special hero today.  Contact your neighborhood of interest for more details on this special offer and to set up an appointment for a beautiful new affordable home today!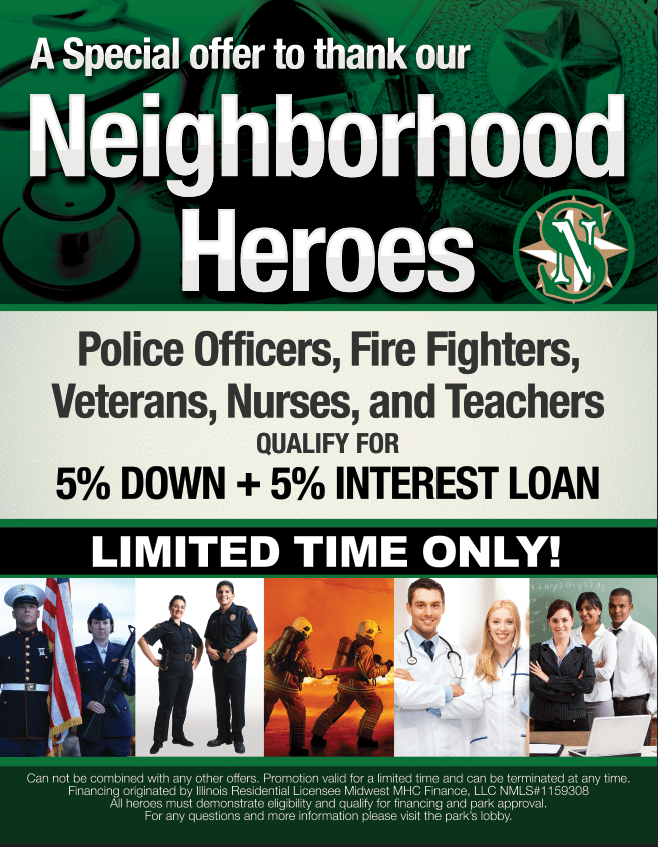 Resident Referral Program
We believe our community residents are what makes our Santefort Neighborhoods a great place to live and they are also the important nucleus to all our communities.  We want to give back to our valued residents by offering a rewarding referral program.  Community residents who refer an individual who leases a home get one half off their site rent for one month.  If that individual buys the home, the community resident gets one month free off their site rent.  Residents can gain credit on their site rent and also have new neighbors they already know in their community!  It's a win-win for everyone so take advantage of this great opportunity!  Contact your respectable neighborhood for more details on this program and refer a special somebody today!
Tri-Star Estates 2017 Annual Open House Event
We are excited to announce our annual Tri-Star Open House celebration is less than one week away! This will be an awesome event that will feature a live radio remote with prizes and a talented Dj will dish out all your favorite jams! We will have exciting contests and all kinds of fun activities for the kids so don't miss out! Their will also be food and beverages. Champion homes will be their displaying their newest 2018 homes and tours will be available. We will be giving out raffle prize giveaways with the top prize being $500 for the first place winner! To sign up for this event and enter our grand prize giveaway, please go to TriStarEstates.org and sign up today! We can't wait for this exciting event and we hope to see you there!